It had been a bucketlist item for some time to hike a well known route here in Iceland called Laugavegur. And so soon after coming back home from Canada, a friend offered up the possibility for finally checking it off the list. Its a easy walk, usually done in 2-3 days (a ultra marathon is held every year where the record is just over 4 hours!), and takes you through some fairly varied range of landscapes (on a Icelandic scale at least). And me not having much in the way of plans for the summer said sure.
We started at Landmannalaugar, a beautiful place where geothermic water flows out from under the lava field and creates hot pools where Icelanders have historically bathed in for centuries.
Currently it is swamped with tourists, and looks more like a refugee camp with hundreds of tents strewn about and people waiting in lines to use the limited facilities. For anyone wanting to go there and really experiencing it like it should be, I would recommend going during early spring or late autumn when regular bus trips there have stopped. Just rent a car and go have an adventure. Make sure you get a 4x4, and are equipped to hike some part of the road, since the place usually gets snowed in.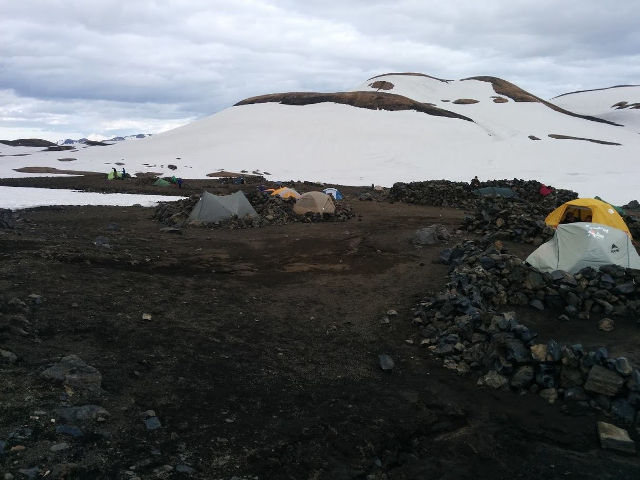 The lava field is made up of, among other types, Obsidian (or Hrafntinna in Icelandic). Which relates to the name of the campsite where we stayed for the first night, Hrafntinnusker or Obsidian Reef. It's a barren piece of rocky plateau huddled right up next to a hill, that gives it a bit of protection from the elements.
The campsite has small walls all around, made up from rocks for wind projection. We were a bit tired when we got there, so getting the tent up felt like bit of a struggle. But once up sitting inside and cooking dinner felt great. The night was stormy, with the small walls around doing their best to shield us from most of the gale. My friend had not packed the best of gears, so she had a rather rough night sleeping on the frozen ground.
The next day we had a bit of every kind of weather. Sun, rain, snow, wind, fog. All in all rather good, seeing as this is Iceland and the likelihood of enormous amounts of rain is rather high and we only got a small drizzle. On the way we passed a Australian couple that were in Iceland for the first time, and doing mountain hiking for the first time as well. Which I found kind of crazy. To go all the way to the other side of the planet and go for a multi day hike as a first time taste. But then again, they come from a country that hosts some of the worlds most poisonous animals. Why do things half measure.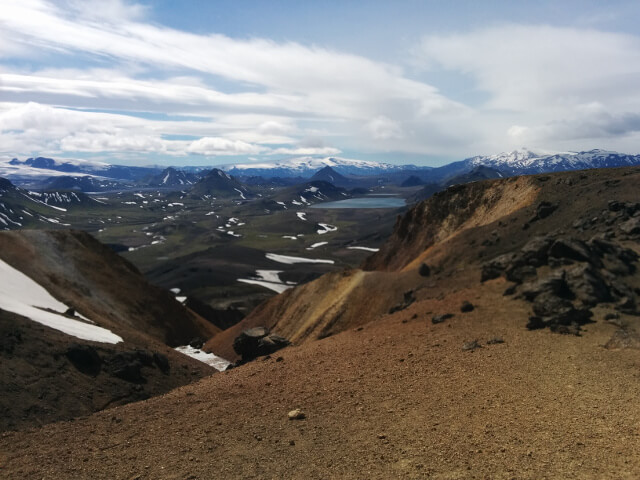 We stayed at Álftavötn for the second night. It was a bit windy at the beginning but then settled down, and the sun started shining. I sat in the grass by a small river, reading and sipping some 16 y.o single malt scotch I had brought with me in a hip bottle. It was a nice and quite moment out in nature, something I hadn't experienced for months during a long crunch time with Memento and during my stay in Canada.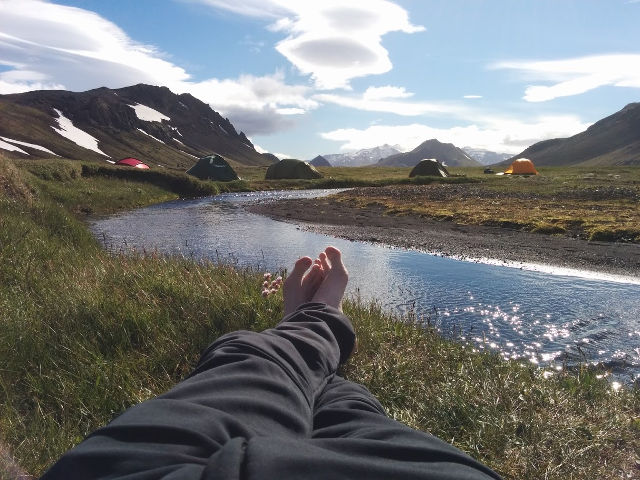 In the morning I got rather envious of a French couple that was sitting close by, having breakfast and making coffee using a Aeropress. I own one my self, but hadn't thought about bringing it. And after two days of instant coffee, my inner coffee snob was starting to stir (as well as my tastebuds!).
We pressed on for the third day, which was going to be our longest one or around 30km. The weather was good, and the terrain was pretty flat for the majority of the walk. We passed a group of middle aged Americans that I had noticed at the campsite the day before. They obviously were going for the more luxurious way of hiking. Gear driven between stops. Big dining tents pitched for them, equipped with a dedicated chef cooking for them. We overtook them quickly, as they moved slow enough to almost start going backwards.
During our walk we crossed a few rivers, where the high pitched shouting of American tourists could be heard kilometers away as they waded into the glacial water. The color scheme of the ground started shifting from the browns and reds of the high temperature areas we had hiked through in the past two days, into deep blacks and vivid greens. This would become my favorite part of the whole trip.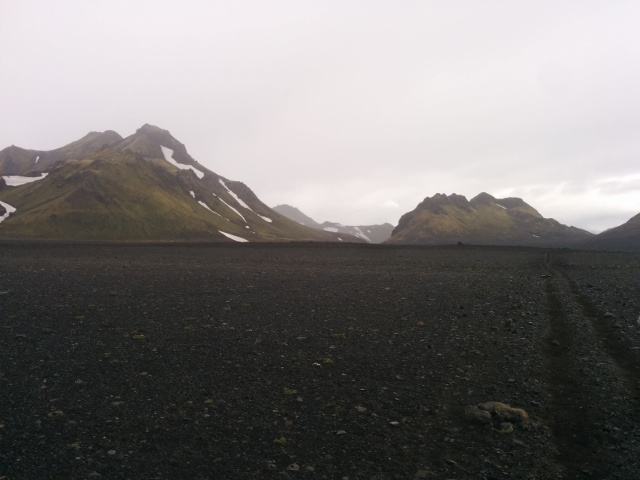 My Nexus 5's camera couldn't do the colors or mood justice. Black volcanic desert all around, contrasted with vivid green slopes of jagged hills all around. On top of that, slight mist. Walking in silence in that scene was extremely relaxing. It made me realize how saturated normal city life is with ambient sounds and distractions. I started wondering about the possibilities of living out in the country side, close to nature, away from all the noise. But that will be a post for another time.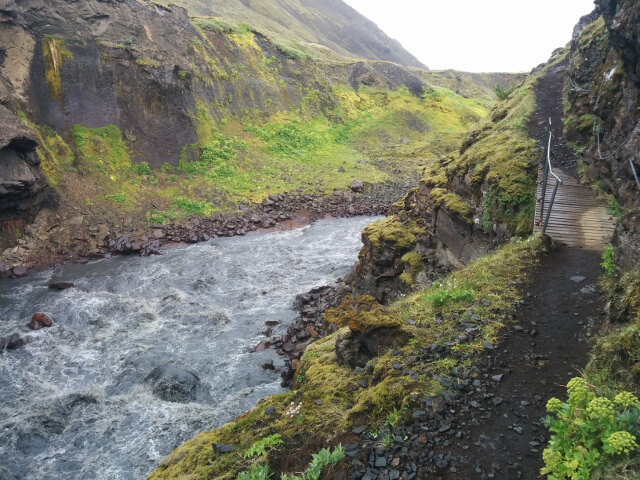 After a while we reached the last stop, usually where hikers spend the night before continuing. But we had decided to do it in 3 days, so after a short stop filled with energizing food (and just a bit of whiskey), on we continued. By now we were low enough to sea level that there was more vegetation around, though only just. But with every hour it become thicker and thicker.
At this point we started noticing helicopters flying above. Obviously more signs of tourism, and something you would never have experienced in Iceland just a few years back. In a way it made me sad that even out here, one couldn't fully escape modern society.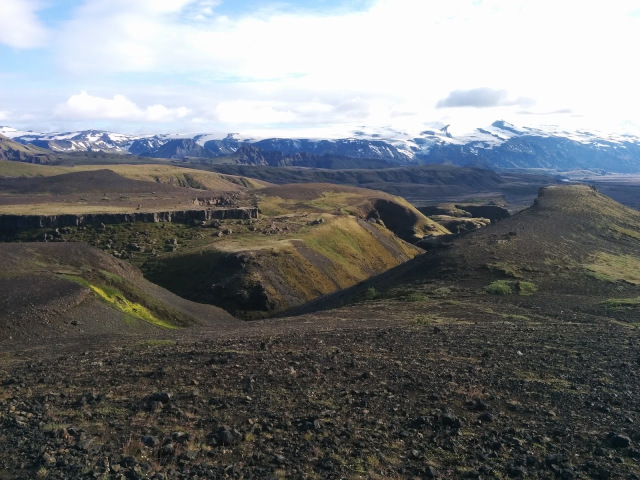 With the last of our energy, we marched through the dense forested area of Þórsmörk. It felt almost alien, after so much time spent in the barren volcanic desert. About 10 hours after starting out from Álftavötn we reached our camping area for the night. That evening I had the most delicious lamb stew I have ever tasted, as well as a rekindled enjoyment for hiking.